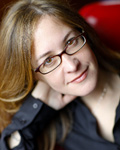 If you've read David Bornstein's previous books, The Price of a Dream and How to Change the World (THE definitive publication on social innovators across the globe), odds are you've been waiting patiently for his latest oeuvre. This time around, he teams up with Susan Davis, founding president of BRAC USA and a founding board member of the Grameen Foundation, for a comprehensive overview of the growing yet still oft-misunderstood field of social entrepreneurship.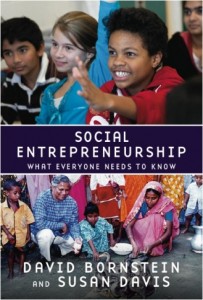 For those who want to learn about social entrepreneurship, you've come to the right place. If you're a practitioner with questions and issues to explore, you're in luck too. "Our hope is that this book will spark your excitement, expand your sense of possibility, and perhaps point the way to your own changemaking path," says the introduction. It does all that, and more.
The book starts off by defining social entrepreneurship, its historical context, and the movement's pioneering visionaries. And if you're still scratch your head over what social entrepreneurs do and the common traits they share, the authors explore those questions in detail, with examples to boot. My favourite explanation for the role of a social entrepreneur is simple yet profound: "[One who] helps others to envision a new possibility, appreciate its meaning, and recognize how it can be broken down into doable steps that build momentum for change."
Wondering how social entrepreneurship differs from traditional business entrepreneurship? The authors grapple with that common query too. The primary distinguisher is purpose or bottom line, they offer. The former looks to maximize social impact, while the latter is typically concerned with profit-motive. Of course, the delineations are not perfectly clear-cut and some overlap is common.
In distinguishing business and social entrepreneurs, the authors clarify yet another point of confusion. It's not just about fostering social impact; social entrepreneurship also requires the adoption of new solutions to address societal challenges. In other words, there is a veritable distinction between traditional companies providing environmental solutions and companies like D. Light Design, an enterprise that produces solar-electric lamps in the developing world. Not to undermine the former, but organizations like D.Light are effecting significant change, minimizing the reliance on the unhealthy and environmentally destructive kerosene lamp. Considering the growing number of companies self-defining themselves as practicing social entrepreneurship, the distinction is useful and timely.
The authors then explore the various challenges facing social entrepreneurs, some institutional, others conceptual. Talent recruitment is one. "The social sector does not yet have sophisticated systems to nurture talent," they explain. Other issues include finding effective ways to assess impact, influence public policy, foster leaders in the field, and establish better means of scaling-up organizations.
Practical tips and advice for those contemplating the fulfilling yet ever-challenging world of change-making comprise the last chapter. They include: Be open-minded but a good listener too; understand fully the workings of the systems you want to change; hone soft and hard skills. "Above all", say the authors profoundly, "changemakers should learn how to navigate through resistance. Change always brings resistance."
The book concludes with a list of 25 Thoughts for Changemakers. No. 11: Volunteer for a public campaign. No. 14: Host dinner discussions about your idea, and the list goes on. I would add one more: if you're really serious about pursuing social entrepreneurship, run to your bookstore and pick up this book; you'll be glad you did.
Elisa Birnbaum is the co-founder of SEE Change Magazine, and works as a freelance journalist, producer and communications consultant. She is also the president of Elle Communications.